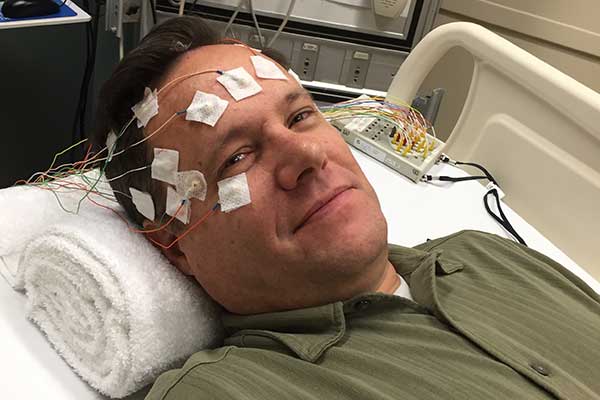 Dealing with health problems
It's been a while since I've done anything with music or my website. Unfortunately, I've been dealing with some health issues for nearly two years. During this time I have been diagnosed with atrial fibrillation, an H-Pylori infection, hiatal hernia, an enlarged liver and spleen, sleep apnea, and some type of seizure disorder that has yet to be specifically diagnosed.
It started with the classic symptoms of a heart attack in April of 2015. My family and I had moved back into our home after gutting it and completely renovating it. On a Saturday evening toward the end of April, I had just come home from the hardware store with some lumber and concrete. My heart started racing. I was having chest pains, palpitations, feeling nauseous. My left jaw ached and the pain radiated down my left arm. I felt weak and thought I was on the verge of collapse. My wife helped me into the house and I went bed.
I probably should have gone to the Emergency Room, but I didn't. This wasn't the first time I had had these symptoms, and I had made several visits to the ER without finding out what was wrong. Usually, I would just go to bed and I would feel better the next day, but this time the symptoms persisted. The next day, Sunday, the symptoms persisted and I didn't get out of bed. On Monday I finally went to see my Primary Care Provider (formerly known as a physician) who sent me to the hospital. They kept me overnight and ran a series of tests. These tests eventually resulted in the diagnosis of atrial fibrillation.
In May of 2015 I began having myoclonic seizures. Doctors pretty much ignored these symptoms for a while. By August of 2015, I had to use a cane to walk. In December I saw a neurologist. She ordered an MRI and an EEG of my brain to try to figure out what was causing the seizures. The MRI showed some tissue softening in the Corpus Callosum (Encephalomalacia). The EEG showed nothing unusual. The neurologist said the minor brain damage in the center of my brain wasn't causing any problems and that they generally didn't treat this condition because the brain tends to reroute itself around the damage. She said that she didn't know what was wrong with me so she didn't know how to treat me. She politely invited me to not come back.
In December of 2015 I had a sleep study done, which indicated that I had moderate sleep apnea. They put me on a CPAP machine. Getting my sleep apnea under control helped things a lot. By January of 2016 I no longer needed a cane to keep my balance. In March of 2016 I had an ablation procedure to fix the atrial fibrillation. I continued to have minor seizures and occasional problems with balance, but overall, I was feeling much better and was resuming normal activity.
In October of 2016, I had a pretty bad seizure in church, and needed help walking out. The seizures had suddenly become more intense. I went to my primary care provider, and had a seizure in front of him. He ordered another EEG and referred me to Barrow Neurological Institute in Phoenix. This time the EEG showed moderate abnormal brainwaves in the front left temporal region.
Barrow's scheduled my appointment for March 19, 2017. By December my seizures had become a daily occurrence and were lasting longer than before. Just before Christmas I had a seizure that wouldn't seem to quit. After an hour, my family loaded me in the car and took me to the Emergency Room. They gave me some medication through an IV and a short time later the seizure began to subside. They set up an appointment with a Neurologist in Tucson on December 28, 2016.
I saw a neuro nurse practitioner and during the appointment I had a seizure (or event) and was admitted to the hospital for three days of testing. The tests were inconclusive, but the medication they put me on (Keppra) made things a whole lot better.
As of this writing, we are still looking for answers. The medication I am on and some remedies I've found myself are helping and have enabled me to get back to my normal activities – except for driving. I will be posting additional information about my condition and my search for answers and solutions. Along the way, I have begun experimenting with sounds and music for meditation and relaxation, which I also plan to share. Since I am beginning to lose hope that the medical community will be able resolve my issues, I am hoping that by posting about it through my blog, I may be able to connect with others who have dealt with the same problems. Maybe we can help each other.
Comments
comments