The Adventures of Munson & Murph
The Adventures of Munson & Murph is a feature length audio theater production that I wrote, produced and voiced. It's available for download on Audible, Amazon and iTunes.
Here's a sample:
The Adventures of Munson & Murph details the misadventures of special agents, Munson & Murph, who work for an unidentified organization simply called, "The Bureau." These bumbling detectives attempt to function in a world they barely understand, while trying to solve crimes that nobody has committed. The two inept sleuths remain relatively clueless as a simple mystery unfolds around them and eventually solves itself.
I have always admired the radio comedy, Chicken Man, created and voiced by Dick Orkin. Chicken Man was created in the 1960s as a spoof of comic book superheros and was patterned after the popular TV show, Batman. Ideas have rattled around in my brain for decades as to how I could come up with my own audio program. Several ideas have come and gone. The idea for Munson & Murph originated while working on a treasure hunt promotion for a radio station. The two main characters were used in daily radio vignettes that were designed to showcase the sponsors of the promotion and provide clues for the treasure hunters.
In the fall of 2014 I started working on a script and finished it by the end of the year. Then I faced the daunting task of recording it. I didn't count up the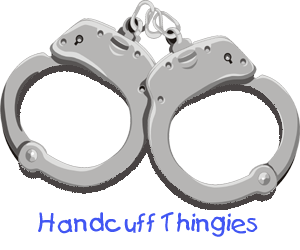 characters until I finished the recording. If I had thought it through a little better, I might have tried to limit the number of characters, but the direction of the script required certain characters to make the story work. After I counted the characters I realized that I had voiced 28 of them for the program. Here's a list of characters:
Announcer
Special Agent Munson
Special Agent Murph
Chief Wiggins
Miss Millstone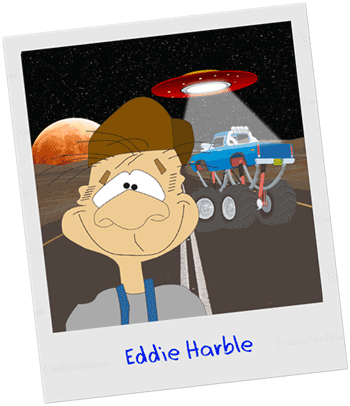 Robber
Police Officer
Highway Patrolman
Mrs. Harble
Reggie
Frank Maloney
Fast Food Guy
Judge
Bailiff
Axel Hammerman, AKA Fly
Hot Dog Vendor
Hotel Clerk
Security Guard
Thug
Eddie Harble
Aliens Gak & Ngao
Flower Shop Owner
Dr. Walter Ashkanzi
Joe – Discount Tires & Glass
Billy Bob from the Roadkill Cafe
Beethoven Commercial Announcer
Cliche Gibberish Commercial Announcer
Heckler in Joe's Discount Glass Commercial
Production took six months, mainly because I didn't spend all day working on it. I started in January of 2015 and finished in June. About half way through it, I started wondering if the project was beyond my ability to complete. In addition to creating voices for the characters that could stand apart from each other, I also created many of the sound effects. For example, I couldn't find an appropriate sound for a broken nose so I had to create one (without breaking my nose). I rounded up some twigs and small branches that were nicely dried and started recording them being broken. I think I layered together about 4 of the individual recordings to come up with the final sound.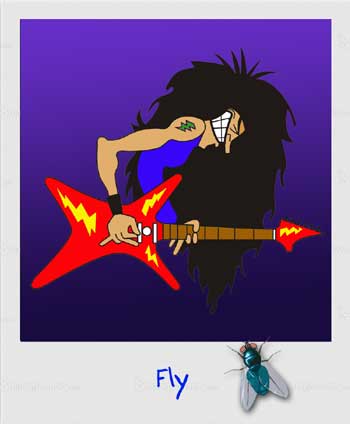 Another sound I had trouble finding was the sound of flies buzzing. I managed to locate a noisy old sound effect of flies on a sound effects library that I had but it didn't quite fit the sound I had in my head for the scene. During lunch, I noticed there was an annoying fly buzzing around the kitchen – you know, the type that buzzes around and never lands long enough for you to swat it? I set up a stereo mic array and dabbed some peanut butter around the mic. I started recording and left the room. I managed to get a wonderful recording of the fly buzzing around the mic. I used the recording in the scene where Murph is talking to the rock star, Fly, in his dressing room. If you listen with headphones, you will likely have the impulse to swat the fly. By the way, the name Fly and the Maggots came from a rock band my older brother formed while in high school.
It's finished, it's available for download. Enjoy!